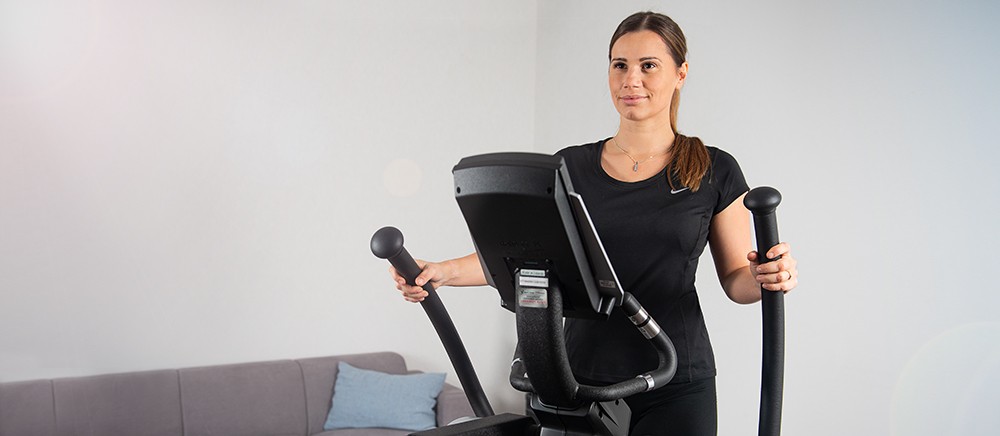 cardiostrong EX80 Cross Trainer
The perfect partner for varied,
comfortable and regular training sessions
Adjustable stride length

Adapts to your running style and height

Space-saving

The EX80 fits into small fitness rooms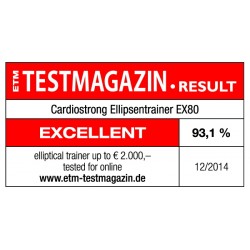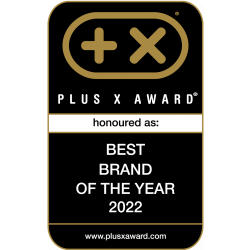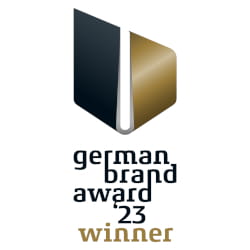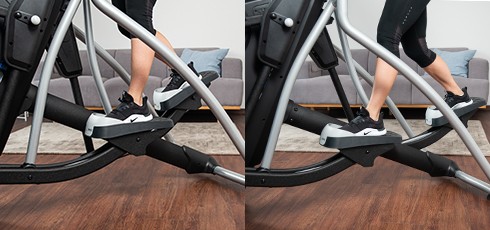 Adjustable stride length
Having the correct stride length is crucial for a quality workout on the cross trainer. The EX80 is the only cross trainer in its price range to offer stride length adjustment. It features five stride length adjustment settings between 45 cm and 65 cm to suit your height – perfect if several users want to keep fit on the same EX80 machine. In addition, various running movements from walking to cross-country skiing can be simulated.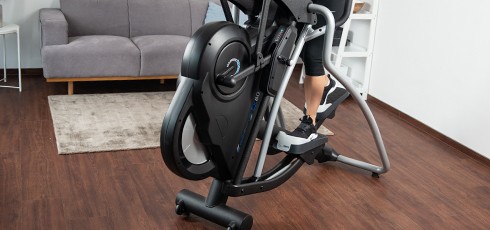 Stable construction
The more stable the cross trainer, the more intensely and comfortably you can train on it. With its robust steel frame and compact design, the EX80 offers reliable stability. So you can pedal hard and the EX80 will keep a firm footing. The high maximum user weight of 150 kg and the 30-year guarantee on the frame also speak for its high level of stability.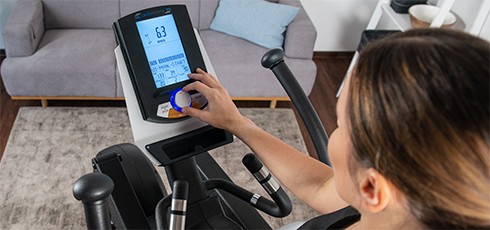 Large selection of programmes
Lose weight, improve endurance or strengthen your muscles: the EX80 supports you in your individual training goals. Equipped with 19 training programmes, including watt- and pulse-controlled programmes for training sessions that are tailored to your needs, you can always take on new challenges. Easily operated with a control dial, the impressive display features a navigation menu that is clear to understand.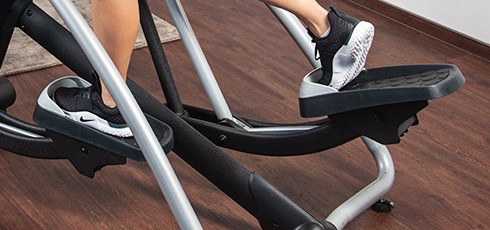 Cushioned pedals
The non-slip and softly padded pedal surfaces ensure that you always have a secure footing on the elliptical trainer. The comfortable pedals are particularly useful for fast or longer workouts. The generously-sized pedals offer plenty of room for users to changing their foot position from time to time, especially those with larger feet.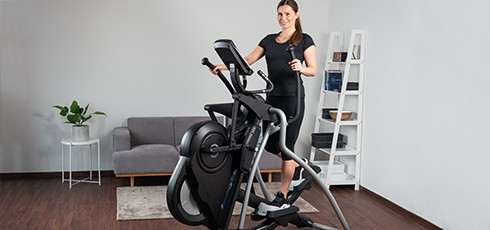 Joint-friendly front wheeler
The EX80 is an elliptical trainer with a higher flywheel at the front. In combination with the short distance between the pedals, this special construction of the 12 kg flywheel and the clever articulated system ensures an extremely smooth and natural movement sequence. Joints, tendons and ligaments are even less encumbered.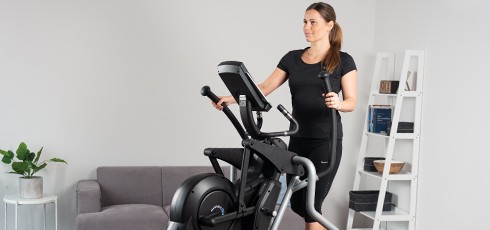 Additional equipment
Its many extra features make the EX80 even more commodious. These include padded arm bars, integrated hand pulse sensors and a drinking bottle holder, thanks to which you always have refreshment at hand. Thanks to the castors, the cross trainer can be set up in your favourite place and can be pushed aside again after your workout, to save space. For added convenience, you can also equip the EX80 with optional multi-grip arm bars.
---
Product details: cardiostrong elliptical crosstrainer EX80
ETM Testmagazin (12/2014) judgement: the perfect partner for a varied, comfortable, and regular training
cardiostrong elliptical EX80 of extraordinary design
Small space required - the cardiostrong elliptical crosstrainer EX80 can also be placed in small fitness rooms!
Joint-friendly, comfortable course of motion
The stride length of the cardiostrong elliptical EX80 is manually adjustable - ideal for sportsmen of different heights or the special training of different muscle groups.
Stride lengthes: 45 cm/ 50 cm/ 55 cm / 60 cm/ 65 cm
Intuitive use
Sturdy construction
Comfortable pedals
Drinking bottle is not included in delivery !
Max. user weight: 150 kg
Dimensions set-up - cardiostrong elliptical crosstrainer EX80: (L) 159 cm x (W) 85 cm x (H) 163 cm

Technical information:

Braking system: electronically adjustable magnetic brake
Output: 10 - 350 W (

adjustable in increments starting from

5 Watt)

RPM-independent resistance control

Balance mass according to the manufacturer: 12 kg
Stride length: 45 - 65 cm
Stride width: 11 cm
ball-bearing mounted joints

Computer:

Resistance levels

: 16
Display:

duration,

distance,

speed,

watts,

RPM

,

calories,

heart rate

Display of exercise profiles via LCD (extra large)
Exercise programs in total: 19

, of which

custom: 4,

heart rate controlled: 4

User memory: 4

Features:

Heart rate measurement:

hand pulse sensors

+ chest strap (sold separately)
Chest strap for telemetric heart rate measurement sold separately

Power supply: mains adaptor

Extras: transport wheels, drinking bottle holder

An elliptical crosstrainer with a joint-gentle, elliptical movement
---
Description: cardiostrong elliptical crosstrainer EX80
cardiostrong elliptical crosstrainer EX80: a new training experience!
With the
EX80 Elliptical Trainer
, cardiostrong presents the "little brother" of the popular
cardiostrong EX90 Elliptical Trainer
. Like the EX90, the
cardiostrong elliptical crosstrainer EX80
also makes a good impression with its novel training concept.
Comfortable Equipment
With the cardiostrong EX80, the resistance is generated by a magnet that acts on the flywheel. This braking system is maintenance-free, and also pleasantly quiet. The handlebars are covered with soft foam, making them comfortable to hold. Hand pulse sensors are attached to the ends of the handlebars. The pedals have a soft, non-slip surface, which offers comfort and a secure hold even during intensive training. The EX80 can be adjusted to the floor surface using the small levelling feet. This guarantees a steadfast position. The other features of the EX80 leave no wish unfulfilled: a drinking bottle holder is just as much a part of it as the practical castors that allow you to easily move the cross trainer after your workout.
Joint-friendly workout and adjustable stride length
The cardiostrong elliptical crosstrainer EX80 has a newly-developed articulated system that not only reduces the amount of floor space required by the fitness equipment, it also ensures comfort whilst you train. The flywheel at the front, which is mounted on high bearings, is connected to the foot pedals via an articulated system. As a result, the elliptical trainer produces a smooth, joint-friendly and natural movement sequence.

The technical highlight of the EX80 is its adjustable stride length. You can vary this manually in five steps between 45 and 65 cm. Users of different heights can set the right stride length for them. Thanks to the four user memories, the whole family can get optimal use of the EX80. The manual pedal adjustment has another benefit: it enables you to simulate different movements from stepping to running. By changing the stride length, you can train different muscle groups specifically and effectively. The EX80 is the only cross trainer in its class to feature an adjustable stride length.
Motivation through a variety of programmes
Besides the adjustable stride length and 16 resistance levels, the cardiostrong elliptical crosstrainer EX80 offers 19 varied programmes for different demands and training goals – from training with moderate intensity and longer recovery phases to demanding workouts. You can also design your own user programme according to your preferences. Four of the programmes are pulse-controlled for a particularly effective training session that is tailored to the user. This allows the EX80 to provide a targeted cardio or fat-burning workout that is tailored to your fitness level. For heart rate measurement, use the cardiostrong EX80 elliptical trainer's hand pulse sensors or – for particularly precise measurements – use the chest strap that is available as an accessory. In the watt-controlled programme, you train with constant intensity: the training computer adjusts the resistance to your pedalling speed. That way, individual performance specifications between 10 and 350 watts can be reliably met.

So that you have your training under control at all times, the cardiostrong elliptical crosstrainer EX80 is equipped with a clear, easy-to-read LCD display that informs you about data such as pace, time, pulse, calorie consumption, etc. The training computer is easy to use: almost all settings are made by turning and pressing the dial. So you can get started with your workout right away.
Holistic endurance training at home
The EX80 gives you a comprehensive total body workout that uses almost all the major muscles in the upper and lower body. Thanks to the arm bars, the cross trainer not only strengthens the leg muscles, but also actively involves the arms, back, abdomen and shoulders. With regular training on the cross trainer, you can increase your performance, reduce weight, strengthen the cardiovascular system or shape and tone the body – a great piece of exercise equipment for keeping fit in your own home!
EX80: awarded "very good" in the test result
The previous model of the cardiostrong EX80 was tested in the ETM Cross- and Elliptical Trainer Test (12/2014), gaining the test mark "very good". The extremely thorough test certifies that the elliptical trainer by cardiostrong provides a comfortable and varied workout and especially emphasises that the cross trainer has an adjustable stride length. You can find the full test below. The newer model features simpler stride length adjustment settings and an improved stride length display. In addition, the amount of cladding on the body has been reduced. That saves resources and, above all, looks much better.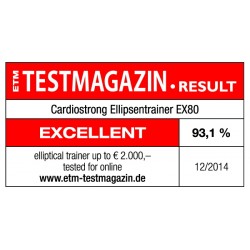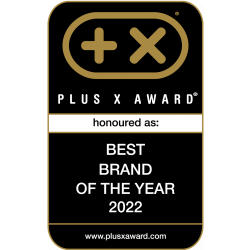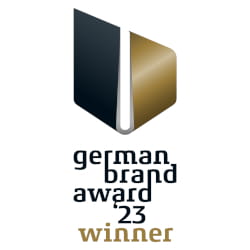 ---
Warranty conditions: cardiostrong elliptical crosstrainer EX80
For further information on the warranty, please refer to the manufacturer's terms of warranty. The manufacturer's warranty is an extra service and does not affect your statutory rights.
| Manufacturer's warranty | Frame | Full warranty |
| --- | --- | --- |
| Home use | 30 years | 24 months |
---
cardiostrong elliptical crosstrainer EX80 Test & Evaluations
0 of 5 Stars
(0 Customer ratings)
---
---
Write the first rating!
---
cardiostrong elliptical crosstrainer EX80 Accessories
---
Sport-Tiedje puts each fitness equipment through its paces. Then our team of sports scientists, serious athletes, and service technicians of many years of experience evaluate the products of different categories. Compare easily the products using the Sport-Tiedje expert review and find your appropriate equipment.