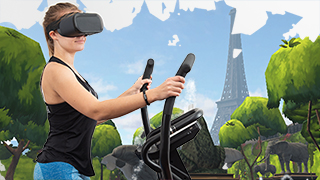 What does Holofit hold for you?
With Holofit you can run, cycle or row virtually through breathtaking worlds. Here you can choose between real, realistic worlds and fantasy worlds.

The Holofit VR Fitness App must be installed on your smartphone. In order to be able to use the app, you have to insert your smartphone into your VR glasses and then you can immerse yourself in the virtual worlds.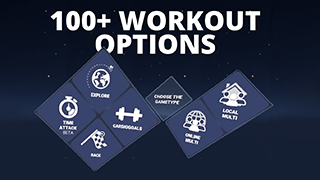 Why train with Holofit?
Forget about monotonous and boring training sessions!

Discover breathtaking virtual worlds with your friends, take part in competitions, achieve your cardio goals or compete against your own personal best.

With Holofit, you can achieve maximum results with minimal effort in guided workouts.

You can easily improve your fitness and motivation.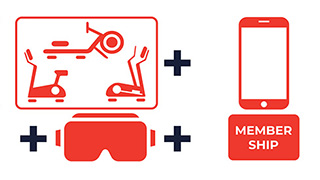 What do you need to be able to use Holofit?
To start your VR training, you need a fitness device, the VR glasses (in which you have to insert your smartphone) and an additional cadence sensor, if you want to connect an ergometer, a cross trainer or an indoor bike that uses the FTMS Bluetooth standard not fulfilled.

If you meet these requirements and have selected your suitable membership (3 months, 12 months or lifetime), nothing stands in the way of your journey into the virtual world.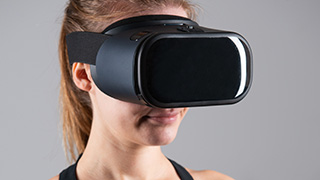 The VR holder for your smartphone
The VR goggles allow you to immerse yourself in virtual worlds in connection with your smartphone. The good quality and high-quality optics are just some of the advantages of VR glasses.

You can also adjust the goggles very quickly and individually to the size and shape of your head.

Due to the very low weight of the VR goggles, you do not feel that you are still wearing them during your training and you can fully devote yourself to the VR experience.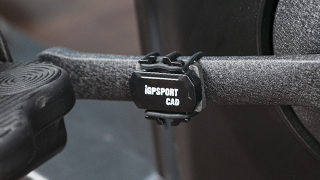 Cadence Sensor
With the Cadence Sensor, you can connect almost any fitness device (ergometer, indoor cycle or cross trainer) to Holofit via Bluetooth. The sensor can be attached to various positions on your fitness equipment.

The sensor is only required if your fitness device does not meet FTMS Bluetooth standards.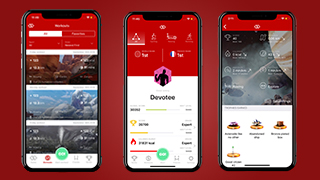 Holofit "Companion App"
The Holofit "Companion App" is your loyal companion for every workout. You can save all training sessions and closely follow your results. In addition, trophies can be unlocked and collected.

To increase your motivation even further, you can connect with friends and compare your results.

The "Companion App" is an additional app that you can use free of charge in addition to the Holofit VR Fitness App.
---
Product details: HOLOFIT VR Training
You can download the app free of charge from the App or Play Store
A compatible smartphone is required for the VR mount
Compatible iPhones (recommended): iPhone XS, iphone XS Max, iPhone 11, iPhone 11 Pro, iPhone 11 Pro Max, iPhone 12, iPhone 12 Pro, iPhone 12 Pro Max
The sensor is only required if your fitness equipment (cross trainer, indoor bike or ergometer) does not meet FTMS Bluetooth standards
Concept2 PM5 models can be connected without a sensor
With Waterrower rowing machines, you only need the COM module
Increase your motivation and performance
No more boredom during your workouts
Experience exciting adventures and explore new worlds
Benefit from more than 100 VR workouts and different modes
Cardio Goals - Burning fat, cardio training, or HIIT at the right level for you.
Time attack - beat your personal records or try to beat other users
Multiplayer - You can meet up with friends or other users to do small group training or to start competitions
Become part of the growing Holofit community and achieve your goals playfully together
Nutzen Sie zusätzlich die kostenfreie die Holofit Companion App und verfolgen Ihre Ergebnisse
---
Description: HOLOFIT VR Training
VR Fitness – Discover exciting virtual worlds
With HOLOFIT VR Fitness you can achieve goals and more while having fun while exercising.

When you lack the motivation to start training and improve your fitness and health - HOLOFIT VR Fitness will help you!

Choose between more than 100 VR workouts and many different worlds. Travel to Babylon, Paris or row 1000m below sea level. Due to the regular updates, the possibilities are almost limitless and boredom is out of the question.

The experience is virtual but the results are real !!
HOLOFIT VR Fitness by Holodia
Holodia has set itself the task of bringing intensive training units and the idea of competition directly into your home in a compact app.

The HOLOFIT VR Fitness App divides the offered workouts into four categories. Depending on your needs, you can choose the right mode for you.
Explore
Experience and enjoy the lovingly designed VR worlds in full and without being against the clock. You can go in search of trophies and try to collect them all while enjoying your workout at the same time.
Cardio Goals
Adjust your training according to your needs. Fat burning, cardio or HIIT (High Intensity Interval Training) at the right level for you.
Time Attack
Once a record is set, you can improve your individual score in competitive play or outperform other users. Competitiveness and motivation are guaranteed.
Multiplayer
Get everyone to collaborate through small group training or competitions. In addition to the different workout categories, HOLOFIT VR Fitness offers you the opportunity to achieve your goals through a virtual trainer. Set goals and your personal trainer will help you achieve the goals and point you in the right direction.
Holofit VR goggles & Cadence Sensor
The Holofit VR glasses let you experience exciting and challenging VR worlds in combination with your smartphone.

The Bluetooth-enabled Cadence Sensor allows you to connect almost any fitness device (ergometer, exercise bike, cross trainer or indoor cycle) to the Holofit VR fitness app.

The sensor must be attached to your fitness equipment and it is important that there is rotational movement. Only then can the correct values be transmitted.
Which set is right for me?
If you want to use the virtual reality app HOLOFIT VR Fitness with a rowing machine from Waterrower or Concept2 , one of the three sets without a Cadence Sensor is the right choice.

To be able to connect the app to your Waterrower, the COM module must also be purchased. You can find this in the accessories below.

If you want to use a cross trainer, an ergometer or an indoor cycle , the sets with a Cadence sensor would be ideal.

If you already have a fitness device that meets the FTMS Bluetooth standard, you can connect it without a Cadence sensor.

Do you already have VR glasses and would like to purchase a suitable Cadence sensor or a valid license for the Holofit VR Fitness App? No problem!

Feel free to contact our branches or our advice hotline directly.
---
Warranty conditions: HOLOFIT VR Training
The guarantee is valid in terms of the general statutory provisions for the end user.
---
HOLOFIT VR Training Test & Evaluations
0 of 5 Stars
(0 Customer ratings)
---
---
Write the first rating!
---
HOLOFIT VR Training Accessories

---
Sport-Tiedje puts each fitness equipment through its paces. Then our team of sports scientists, serious athletes, and service technicians of many years of experience evaluate the products of different categories. Compare easily the products using the Sport-Tiedje expert review and find your appropriate equipment.