Sponeta Table Tennis Table Design Line
Sport-Tiedje Expert Review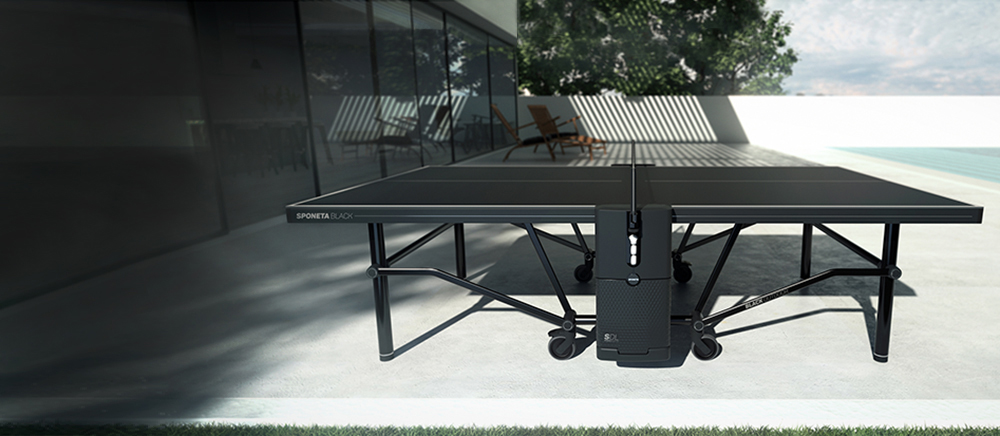 Sponeta Design Line Outdoor Table Tennis Table
High quality, functional and a real eye-catcher in the garden
The perfect combination of functionality, elegance and fun


Three design variations available BLACK, PRO and RAW

Technical Know-how - Made in Germany
Solid frame and weatherproof melamine resin board mit
excellent playing properties for a first class playing experience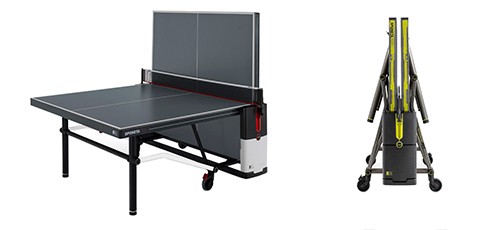 Sophisticated technology meets stylish desgin
Sponeta presents its high quality outdoor table tennis table of the Sponeta Design Line in three attractive designs: Black Edition for a modern abience, Pro Edition for a sports look and the Raw Edition, which stands out with its special signature print. Not only good looking, the technical details of this premium outdoor table tennis table guaranties a unique playing experience.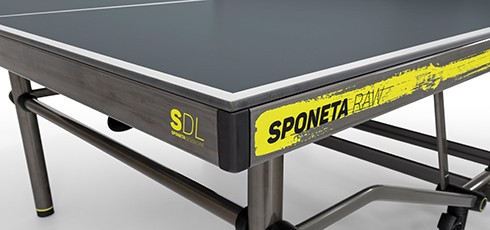 Made in Germany: frist class materials and perfect production
The 10mm thick, robust and weatherproof melamine resin board has excellent bouncing properties. Along with the almost perfect playing properties the melamine resin board is finished with an anti-glare surface, so that a comfortable match is possible in the blinding sun. Together with the solid frame construction in competition quality makes the Sponeta SDL Table Tennis Tables a central point of enjoyment in every garden.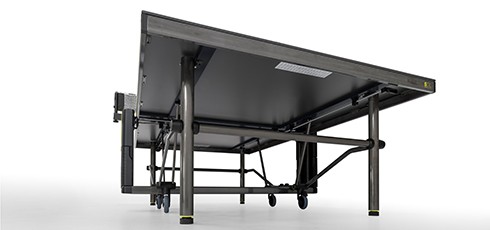 Technical and safety highlights
During the development of the Sponeta Design Line Table Tennis Tables, along with the excellent design, important focus was laid on easy use and high safety. Built with a solid frame out of 60mm powder-coated steel piping the SDL Table Tennis Tables will stand for years of enjoyment during matches and training. Thanks to the user-friendly SMS mechanism (Smart Manual System) with grip and optimal pivoting point, the table halves are especially safe and easy to fold up and down. The adjustable feet, up to 25mm, on the table legs allow the table to be evened out and result in a secure stand on every surface.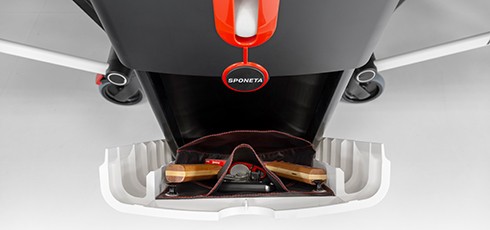 Intelligent solutions for storing accessories
Another design highlight of the SDL Table Tennis Tables is the integrated paddle storage, that not only has place for paddles but also, for example, keys or a mobile phone. Additionally the tables are equipped with two ball holders that securely hold up to 3 balls each.
---
Product details: Sponeta Table Tennis Table Design Line
Available in three different designs: BLACK, PRO and RAW
The tables, with exception to the netting and plastic elements on the sides, are completely pre-assembled.
SMS-Mechanism (Smart Manual System) with practical grip
Ball holder (for 2x3 Balls) is integrated into the side elements
Multifunctional storage on the sides with integrated bag for paddles and valueables
Rear legs with adjustable feet up to 25mm
Height adjustable netting with tension band
Weatherproof melanie resin board (10mm) with 10 year guaranty PEFC
Seal of approval Class C, proven safety
Rounded piping frame COMPACT (Type 48) with 60mm diameter and powder-coated
4 pivoting wheels, 2 of them lockable, with 125mm diameter and rubber treads
Dimensions set-up - Sponeta Table Tennis Table Design Line: (L) 274 cm x (W) 185 cm x (H) 76 cm
Folded - Sponeta Table Tennis Table Design Line: (L) 185 cm x (W) 64 cm x (H) 159 cm
Table tennis table:

Melamine resin top 10 mm
Non-glare coating
Profile frame construction 60 mm
Weatherproof
Foldable
Allows the user to play on his own

Undercarriage:

Integrated transport carriage
transport wheels

: 125 mm Diameter

Safety brake

Accessories:
---
Description: Sponeta Table Tennis Table Design Line
Sponeta Design Line: an eye-catcher in the garden
The Design Line from Sponeta sets new standards for design in table tennis tables. In combination with the thoughtout functionality, right into the small details, the SDL table tennis tables are a secure source for enjoyment. Sponeta combines technical Know-how, state of the art design elements and the known Sponeta quality of the table tennis table 2.0. The Design Line is available in thress designs: the modern Black Edition, the sporty Pro Edition and the Raw Edition, in which the high quality materials and precise production really shows itself. All variations are constructed exactly the same and only differentiate in their design.
Recreational table tennis table in competition quality
Built with a solid, powder-coated frame the Sponeta Design Line Table Tennis Tables are very safe and stable during play. The solid table legs with a diameter of 60mm are connected to the cross-beams with an innovative hinge that gives extra stability on almost every surface.

The SDL Table Tennis Tables have a 10mm thick, weatherproof melamine resin board that is finished with an anti-glare surface. So that heated games in the shining sun are no problem.

Summary: If you're looking for a table tennis table, that should widthstand the outside weather, has all technical features of a modern table, prized playing properties and should look good in the garden then look no further as the Sponeta SDL has everything you need.
Fantastic technical features
An extra highlight of the table tennis table from the Sponeta Design Line is the user-friendly folding mechanism: Smart Manual System. Built on both sides underneath the frame, the metal handles unlock both the left and right mechanisms at the same time. Folding is easy and is supported through the ball-bearing joints and optimal pivoting point. That even during transportation it's still an eye-catcher.

The table legs are equipped with new developed adjustable feet, that allow evening of the table on all surfaces. The polygonal texture offers maximum grip and can be easliy adjusted up to 25mm.
Smart storage solutions
The paddle holder has place for at least to paddles and protects them from wind and weather. The elegantly integrated ball holders, one on each side, can hold 3 balls each and rounds up the perfectly equipped Sponeta SDL Table Tennis Tables.
---
Warranty conditions: Sponeta Table Tennis Table Design Line
For further information on the warranty, please refer to the manufacturer's terms of warranty. The manufacturer's warranty is an extra service and does not affect your statutory rights.
| Manufacturer's warranty | Full warranty |
| --- | --- |
| Home use | 10 years |
---
Sponeta Table Tennis Table Design Line Test & Evaluations
5 of 5 Stars
(3 Customer ratings)
Sport-Tiedje Expert Review
---
---
---
Sponeta Table Tennis Table Design Line Accessories
---
Sport-Tiedje puts each fitness equipment through its paces. Then our team of sports scientists, serious athletes, and service technicians of many years of experience evaluate the products of different categories. Compare easily the products using the Sport-Tiedje expert review and find your appropriate equipment.